The Feline | Bamboo Sunglasses
The Feline | Bamboo Sunglasses
description
Unleash your inner Feline. One of our favorites in our catalog! Handmade out of high quality natural Bamboo, these cat eye style sunnies will keep your eyes protected and face looking fresh. Get #OnTheGrain!
---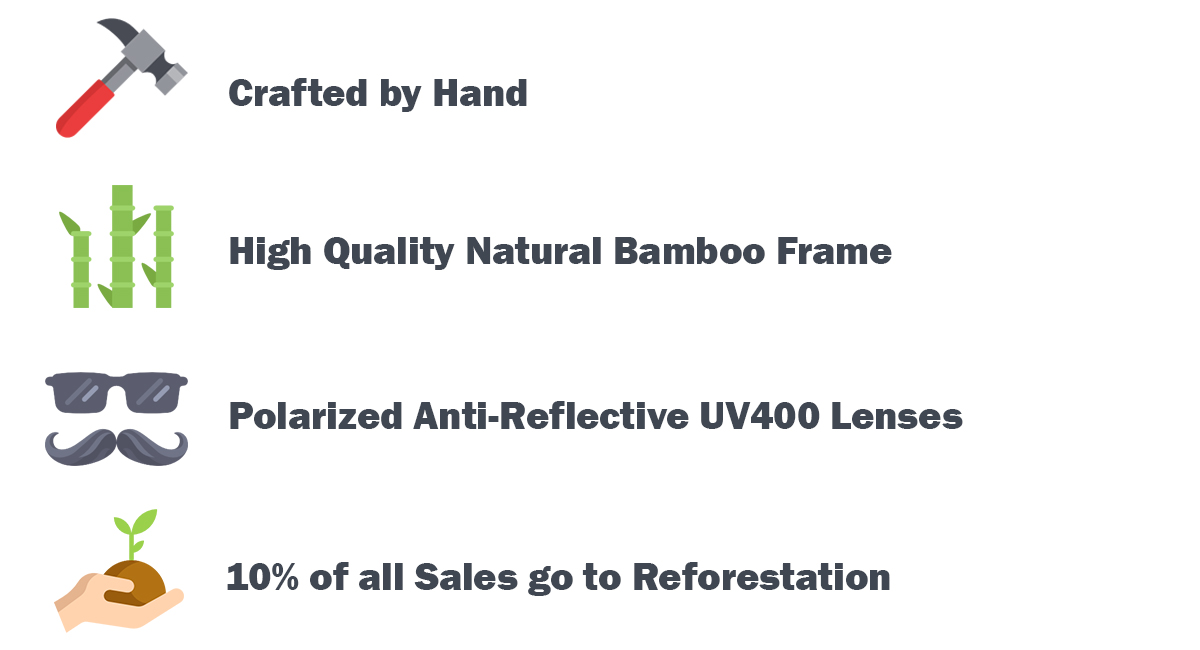 Lenses Optical Attribute: Polarized anti-reflective UV400 lenses for ultimate protection against the suns rays
Lenses Material: Scratch resistant polycarbonate for lasting durability. These sunnies are perfect for anyone on the go! They can handle a beating.
Frame Material: Hand crafted from high quality natural bamboo giving an unique look and style. They even float!
Frame Size: 143mm face width x 156mm length x 46mm height (5.6" x 6.1" x 1.7").
Our Mission to Save the Grain
We love wood. So much that we created a place full of only the finest handmade wooden lifestyle accessories. But we didn't stop there. We wanted to help change the world!!
By partnering up with the kick-ass team over at One Tree Planted, we donate 10% of all our sales towards reforestation. That's anywhere from 1-100+ trees planted for every order! #SaveTheGrain
All our orders ship out in under 7 days and deliver on an average of 7-14 days! We have awesome suppliers and warehouses all over the world, so sometimes things can take a bit loner. We have a guaranteed delivery of 30 days. If you haven't received your product by then, please reach out and we will make it right by tracking it down and giving you a choice of a refund, store credit or free re-order!
We want to make sure you are satisified! Let us know if you are unhappy with you're purchase and we will make it right by giving you a choice of a return and refund, store credit or re-order.